Our Location
Nesbitt Hall, 99 North Main Street,
Port Deposit, MD 21904
Community Cupboard & Little Free Library
CCU's Community Cupboard with Little Free Library was built and donated by one of our generous neighbors in 2020. It's a combination of a Little Free Library and a Mini-Food Pantry that neighbors can add to and take from.
Located across from CCU at Nesbitt Hall, in the parking lot next to the Paw Paw Museum in Port Deposit.
What to share:
Only nonperishable food and hygiene items
Books in acceptable to like-new condition
No clothing except for new or freshly laundered cold weather accessories: gloves, socks, hats, and scarves
We operate under a "pay-what-you-want" model. This means that we rely heavily on the donations of others to ensure that everyone has the opportunity to participate, regardless of their socioeconomic status. Whether you have or have not; all are welcome and all are equal here.
Our Community Library In Port Deposit
We have a Community Library in Nesbitt Hall thanks to a partnership with the Cecil County Public Library, the Town of Port Deposit and community donations. Children, Young Adult and Adult fiction and non-fiction books, DVDs, and Video games are available. We also have computer access and free internet.
No library card is needed, no due dates and no late fees. Hours vary or can be made by appointment.
Check out our calendar for monthly youth STEAM programming presented by CCPL and book clubs with Bodhi Counseling and community volunteers.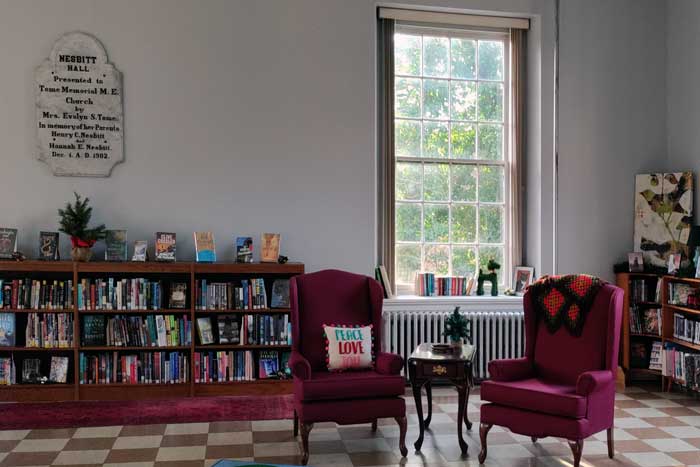 Our Videos
Community Connecting Us, your stories, your community
Asset Based Community Development (ABCD) with David Swift
Creating Spaces with Melissa Corriveau
Parenting in a Pandemic with Cherri Thompson
Home with the Family with Jack Shitama
Declutter and Organize with Melissa Corriveau